You are all aware that aggregates occupy 70 to 80% of the total volume of concrete. 
The fine aggregates are used as filler material & the coarse aggregate are used in concrete to increase the compressive strength of the concrete. 
The size of the aggregates influences the bondage of the concrete ingredients. Improper size & quality of aggregates impacts the strength & durability of aggregate. 
What is the grading of aggregates?
The grading of aggregates is the determination of the aggregate size used for construction works. 
The coarse aggregate is graded as per its size (10mm, 12mm & 20mm). The selection of the right coarse aggregate size depends on the specific construction activity.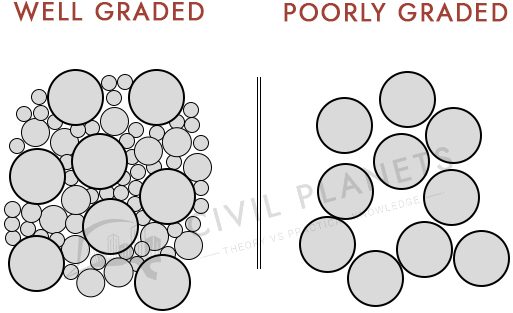 You will understand how grading of aggregates influences the bondage in concrete from the above picture. In well-graded concrete, two or more different aggregate sizes are used to influence the good bondage. 
In poorly graded concrete, single size aggregates are used in concrete. So cement paste can't induce good bondage between the material. The result is that the concrete loses its strength & it is easily breakable. 
Significance of Grading 
The aggregates are graded as per IS code 383, when the aggregate size is less than 4.75mm is called fine aggregate & more than 4.75mm is called coarse aggregate.  
The aggregate gradation is determined by the fineness modulus method where aggregates are passing through the sieve as per IS standard to classify its size.
Based on the aggregate gradation, we can choose the right aggregates for construction. For example, 40mm aggregates are used in PCC & 20mm aggregates are RCC. 

The smaller size of aggregates gives a larger surface area which provides good bonding to the material and increases the strength of the concrete. 

It helps to find the flaky & irregular shape aggregates which are not suitable for concrete that decreases the strength of the concrete. 

The bonding between the aggregates is not good when the single size of aggregates used in concrete.

To determine the quality of the aggregates. 
The aggregates are classified based on,
We have discussed the classification of aggregates already.
Grading Limit for Single Sized Coarse Aggregates
The grading limit for single sized coarse aggregate and graded coarse aggregate of nominal size has been listed as per IS standard. 
The single sized aggregate usage in concrete makes more voids but it has good resistance against sudden impact. 

The grade aggregates contain different particle sizes of coarse aggregate which reduce the voids in concrete & increase the bondage between the aggregates & cement paste. 
IS Sieve Designation
Percentage passing for single sized aggregates of nominal size(mm)
Percentage passing for single sized aggregates of nominal size(mm)
63 mm
40 mm
20 mm
16 mm
12.5 mm
10 mm
40 mm
20 mm
16 mm
12.5 mm

80 mm

100

–

–

–

–

–

100

–

–

–

63 mm

85 – 100

100

–

–

–

–

–

–

–

–

40 mm

0 – 30

85 – 100

100

–

–

–

95 -100

100

20 mm

0 – 5

0 – 20

85 – 100

100

–

–

30 – 70

95 – 100

100

100

16 mm

–

–

–

85 – 100

100

–

–

–

90 – 100

–

12.5 mm

–

–

–

–

85 – 100

100

–

–

–

90 – 100

10 mm

0 – 5

0 – 5

0 – 20

0 – 30

0 – 45

85 – 100

10 – 35

25 – 55

30 – 70

40 – 85

4.75 mm

–

–

0 – 5

0 – 5

0 – 10

0 – 20

0 – 5

0 – 10

0 – 10

0 – 10

2.36 mm

–

–

–

–

–

0 – 5

–

–

–

–
 

Grading Limits for Fine Aggregates
The grading of fine aggregates has been listed as per the IS code standards 
IS Sieve Designation
Percentage Passing
Grading

Zone I

Grading

Zone II

Grading

Zone III

Grading

Zone IV

10 mm

100

100

100

100

4.75 mm

90 – 100

90 – 100

90 – 100

95 – 100

2.36 mm

60 – 95

75 – 100

85 – 100

95 – 100

1.18 mm

30 – 70

55 – 90

75 – 100

90 – 100

600 microns

15 – 34

35 – 59

60 – 79

80 – 100

300 microns

5 – 20

8 – 30

12 – 40

15 – 50

150 microns

0 – 10

0 – 10

0 – 10

0 – 15
Happy Learning 🙂