What are Stirrups in RCC?
We have known this as lateral ties during our studies. 
Stirrups are closed-loop bars tied at regular intervals in beam reinforcement to hold the bars in position.
Lateral ties are used to hold the position of the reinforcement in a column without disturbing the concrete space.
Both are the same and only differ from their placement. If it is placed in a column it is known as lateral ties. If it is placed in a beam it is known as stirrups. The functions of both differ for beam and column.
Mostly the stirrups are designed in a rectangular or square shape but in some cases, it may be provided in circular or diagonally.
Why are the Stirrups & Ties provided in Beam and Column reinforcement?
It holds the rebars in position and prevents deformation.

It positions the rods in the same alignment.

To secure the beam and column from the buckling and shear failure.

The stirrups are resisting the rods under compression or tensile force.
The spacing of stirrups will be different based on the design for both column and beam. The minimum spacing is 100mm and the maximum is 250mm, based on the diameter and numbers of the rod.
Types of Stirrups
The following types of stirrups are widely used in reinforcement and in some special cases the designer changes the stirrups based on the design requirement.
Single Legged Stirrups (Open Stirrup)

Two-Legged or Double legged Stirrups (Closed)

Four-Legged Stirrups (Closed)

Six-Legged Stirrups (Closed)

Circular Stirrups (Open Stirrup)

Helical Stirrups (Open Stirrup)
Single Legged Stirrups
The single-leg stirrups have rarely been used because they are mostly used when binding only two rods.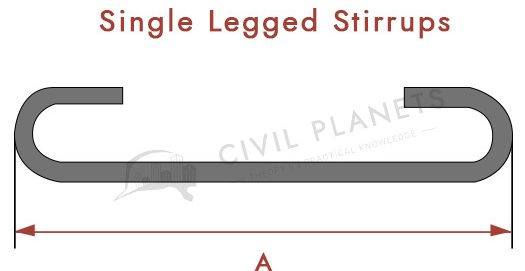 Two-Legged Stirrups
The common and widely using stirrup type id Two-legged stirrups. To provide this stirrup a minimum 4 number of the rod is required.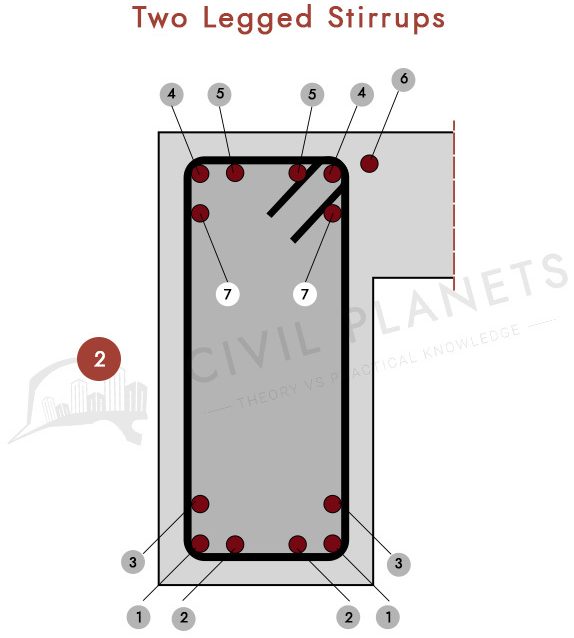 Four Legged Stirrups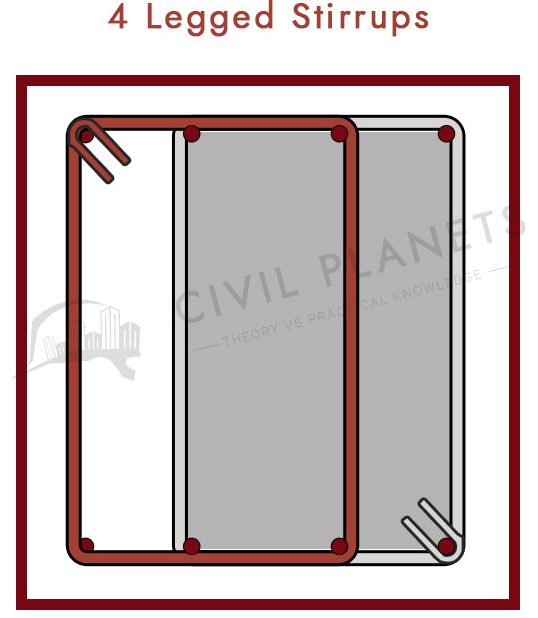 Six Legged Stirrups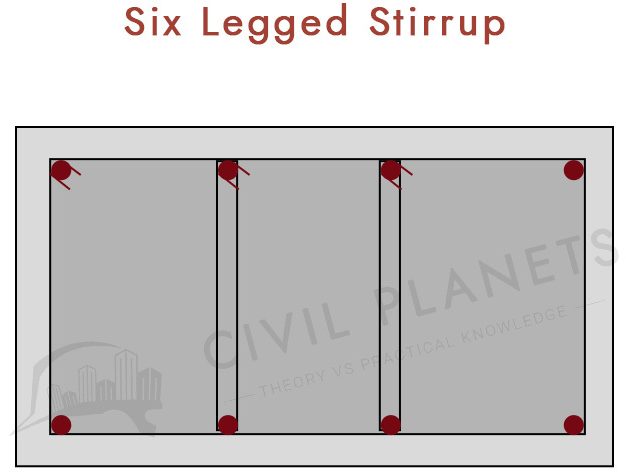 Circular Stirrups 
The circular stirrup is used when the column is a round shape.
Helical Stirrups
Mostly it is used in pile columns and also for the pile foundation the stirrup can use either Helical or circular.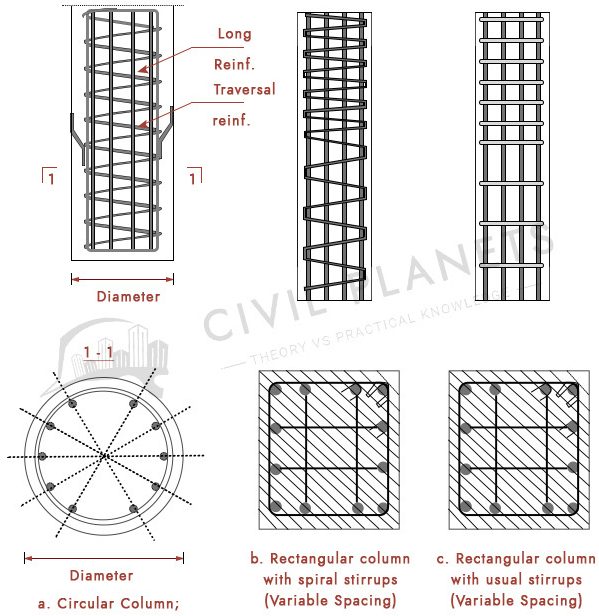 Lateral Ties
These types of lateral ties have been used when the number of rods was increased.
Lateral Ties for 4 Bars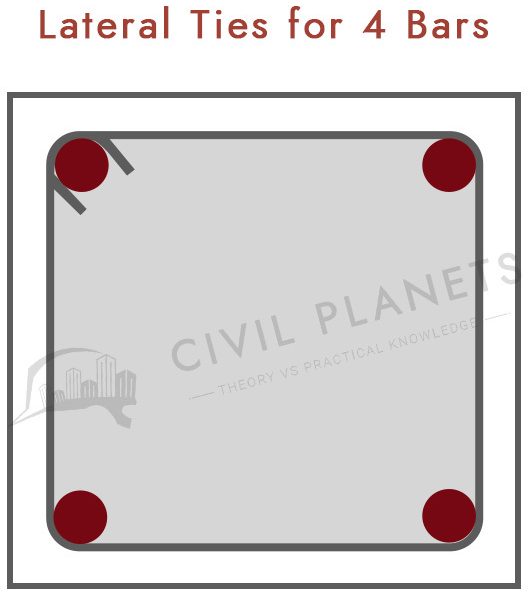 Lateral Ties for 8 Bars

Lateral Ties for 10 Bars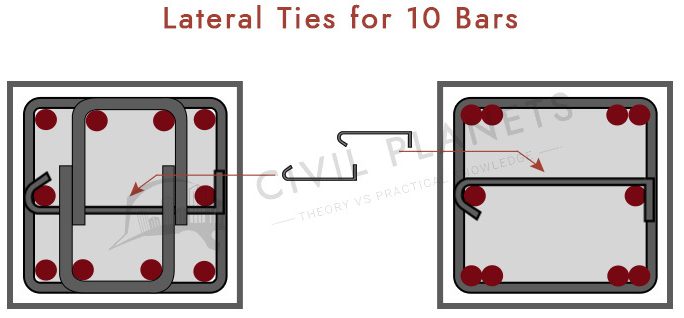 All Other Lateral Ties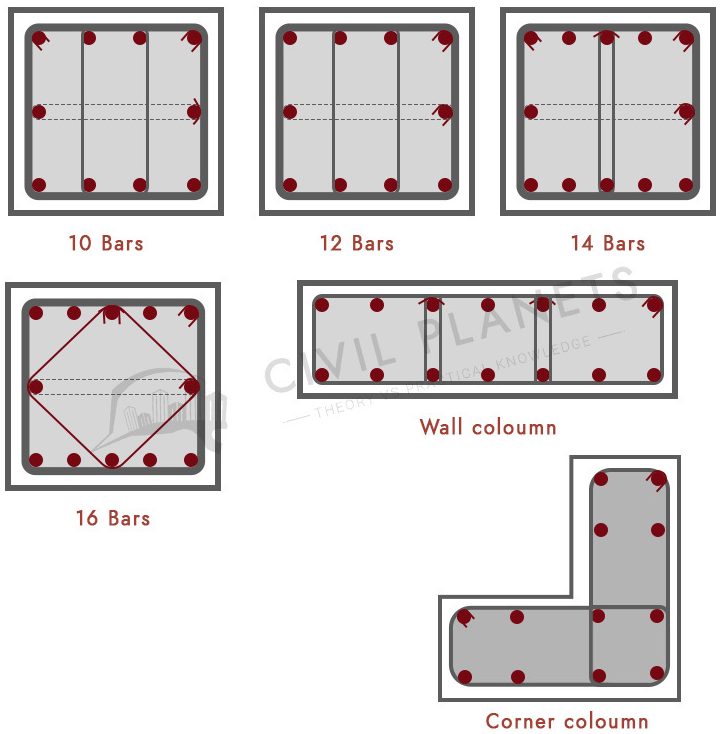 Happy Learning 🙂