These jargons are not only a little confusing to buyers but also to civil engineers.
You may think, why do I even care about these terms?
I have a reason. Since the modern construction era, more apartment cultures are rising. It is not like an individual house where you own every piece of space in your land.
In an Apartment Community, you will share common areas. If you misunderstand the jargon, you may end up with a big hole in your pocket.
Difference Between Carpet, Built-Up & Super Built-up area
What is the Carpet Area?
Carpet Area is the covered area inside your flat where you can lay your carpet. It is also known as the net usable floor area.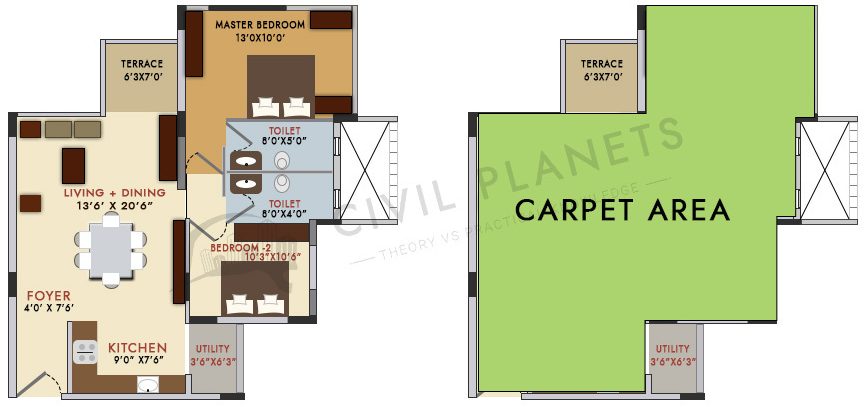 It includes
Bedroom

Kitchen

Toilets

Living Hall

Internal Partition Walls

Cupboard Spaces
Carpet Area is mostly 70% of the built-up area.
What is the Built-up Area?
The built-up area is the covered area which includes
Carpet Area 

External wall thickness

Balcony and Service shafts.
Built-up area = Carpet Area + External Wall Thickness + Balcony + Service Shafts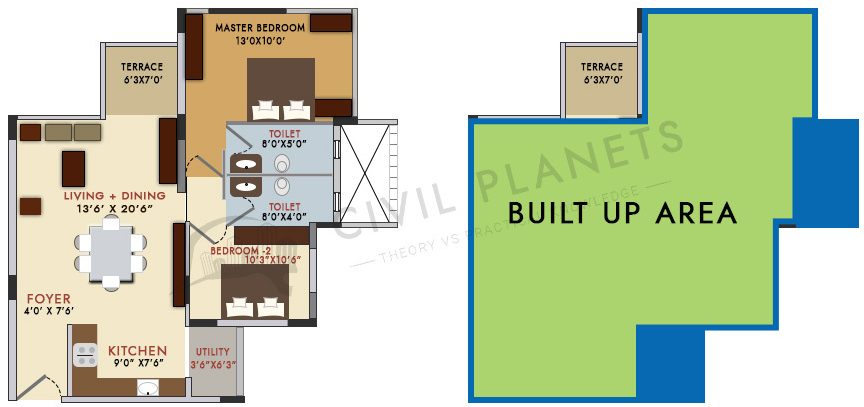 According to the thumb rule,
Built-up area = Carpet Area + (15 % of Carpet Area)
Another name of the built-up area is Plinth Area.
What is the Super Built-Up Area?
The term super built-up area has been used in real estate builders.  The built-up area, along with a proposed share of common areas (also called UDS – Undivided share), is known as the Super Built-Up area.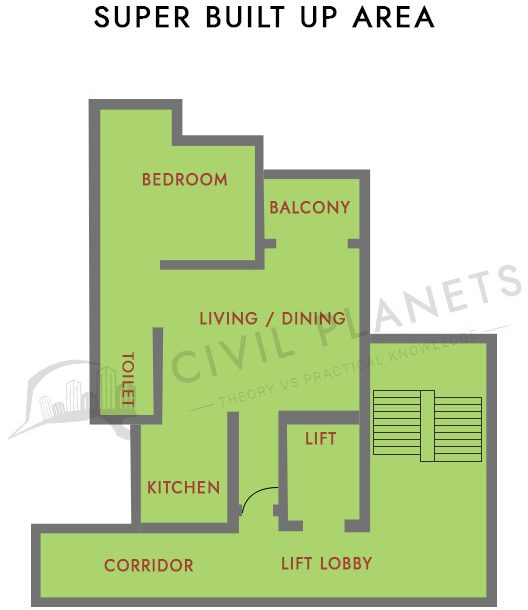 It includes covered spaces such as
Built-up Area

Lift

Lobby

Verandah

Parking Area

Common staircase area

Club area

Air, Pipe ducts
Super Builtup Area = Built-up Area + UDS
| | | | |
| --- | --- | --- | --- |
| PARTICULARS | CARPET AREA | BUILT-UP AREA | SUPER BUILT-UP AREA |
| Bedrooms | x | x | x |
| Living Room | x | x | x |
| Kitchen | x | x | x |
| Toilet | x | x | x |
| Internal Partition Walls (Thickness) | x | x | x |
| Cupboard Spaces | x | x | x |
| External Walls | | x | x |
| Balcony | | x | x |
| Service Shafts | | x | x |
| Lift Shafts | | | x |
| Lobby Area | | | x |
| Verandah | | | x |
| Parking Area | | | x |
| Common Staircase Area | | | x |
| Club House | | | x |
| Air or Pipe Ducts | | | x |
Happy Learning 🙂