The Kelly ball test is an alternative field test for the traditional slump cone test which is performed to determine the consistency of fresh concrete. 
The Kelly Ball test is performed by US Standard (ASTM C360 – 92)and also called as the Kelly Ball Penetration Test. It is not widely used in India.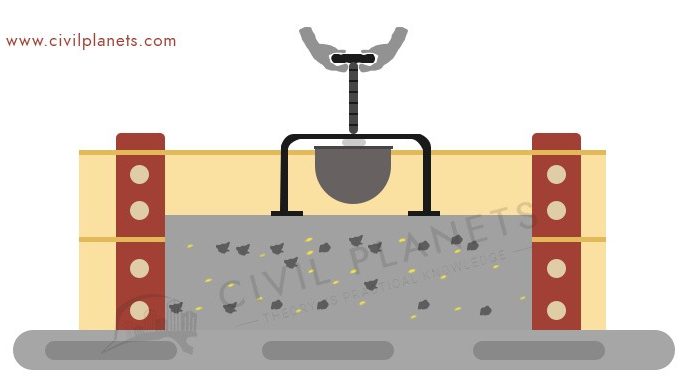 As you know the concrete workability has been classified as low, medium, high & very high. This test is suitable for high workability concrete. 
The test will be executed quick & easy, the result of this test is more accurate compared to the slump test.
Few more important tests which are used to find out the consistency and  workability of concrete are
What is the difference between the above tests?
Each test is suitable for different types of concrete workability. 
Some workability tests conducted in the field and others are performed in the lab based on the concrete workability.
| | | | |
| --- | --- | --- | --- |
| SI | Test Name | Suitable Workability | Field/Lab |
| 1 | Slump Test | High | Field/Lab |
| 2 | Kelly Ball Test | High | Field/Lab |
| 3 | Compaction Factor | Low | Lab |
| 4 | Flow Table test | Low | Lab |
| 5 | Vee – bee test | Low & very low | Lab |
Apparatus Required 
The apparatus required as shown in the picture below. Kelly Ball Apparatus Standards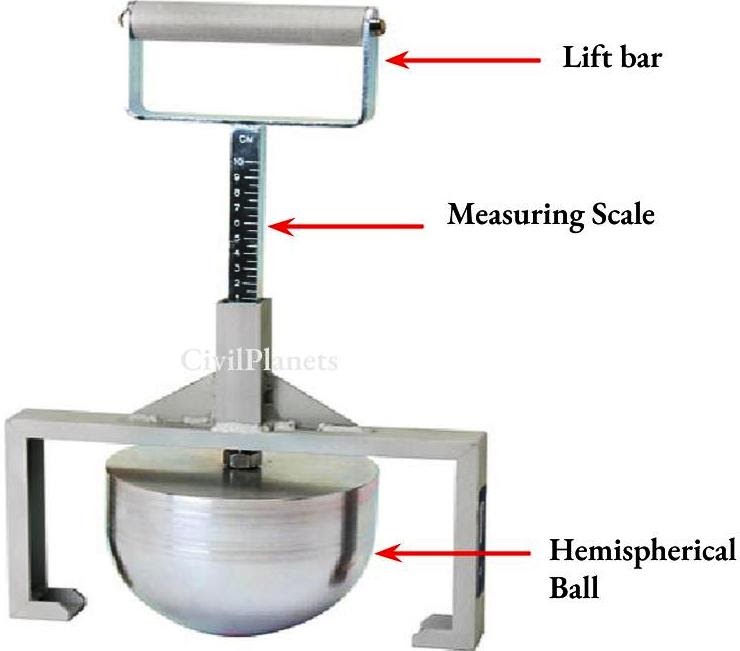 Weight of Hemisphere ball – 13.6 Kg & overall weight is 15 kg

Apparatus Dimension – 360 x 160 x 360 mm

Rectangular container height of 30 cm, a width of 70 cm & length of 90 cm.
Test Procedure
The kelly ball test is more accurate and easy to do compared to the slump test.
Check out the short animated video for better understanding.
The rectangular container & the kelly ball equipment should be free from gritty particles.

Fill the freshly mixed concrete into the container at a minimum 20 cm depth & level the concrete surface.

Kelly ball apparatus should be placed at the centre of the container.

Make sure each side has 23 cm distance from the edge of the container.

Now release the ball.  

Note down the reading on the gratitude scale.

Do 3 consecutive tests on the sample & average the value.
Result
The workability of concrete is an average of the 3 consecutive tests.
Advantages of the Kelly Ball Test
More sample tests could be executed quickly comparing the slump cone test.
The slump test is not suitable for aggregates over 2 inches which could be done by kelly ball.
Test results have been claimed as more accurate.
Hope you learn something new today. Happy Learning 🙂
Have you ever used this in your site?