Totally 17 types of cement used in the construction field and Portland Slag cement is one among them.
We have already discussed
In this post, we are going to discuss Portland Slag Cement
What is Portland Slag Cement?

 
PSC is a hydraulic cement that is manufactured by grinding burnt furnace slag to suitable fineness and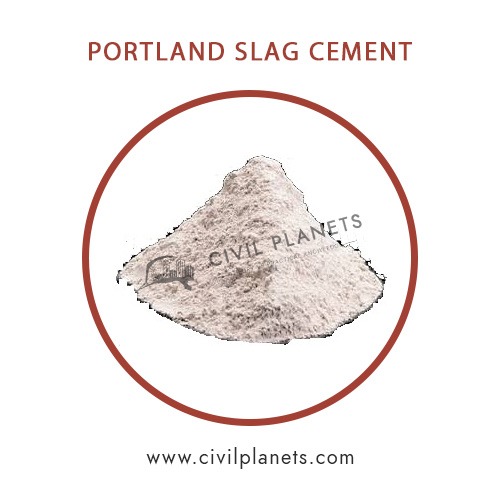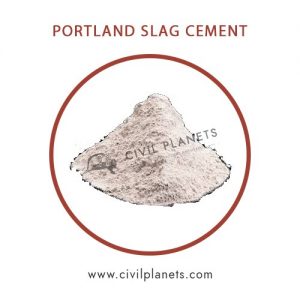 mixed with ordinary portland cement in a particular ratio.
It is made by grinding portland cement clinker and granulated blast furnace slag, the proportion of the latter not exceeding 65% of the mixture's weight. The gypsum will be added as the usual ratio, like the manufacturing of OPC.
The main advantage of Portland slag cement is the effort of manufacturing this cement is much less than the Ordinary Portland cement because the slag is a waste material.
Properties of Portland Slag Cement
The specification of Slag Cement is given in the Indian Standard Code IS Code 455:1989, and it seems to be the colour of blackish grey.
The PSC is also called Blast Furnace Slag Cement because of its make.
It improves durability & resilience.

PSC has the lower evolution of heat.

The Slag cement is more resistant to the attack of weathering agencies.
It gives a smooth finish because the cement particles are more fineness.
Advantages
Easier to place

Lighter in color

Improves workability

Gives a smooth finish

Low Cost compared to OPC 
Uses & Applications
The PSC Cement mainly used in mass concrete because its hydration is lower than that of ordinary portland cement.

It is used in seawater construction projects because it contains good resistant capacity against sulphate attack.

It is used in mass concrete work like the pile, dam, raft, concrete road & precast products.

The PSC cement could not be used in a thin RCC structure since its early stage strength is very less.
Happy Learning 🙂